Vietnam Essential guide: Best time to travel (weather + festival by months)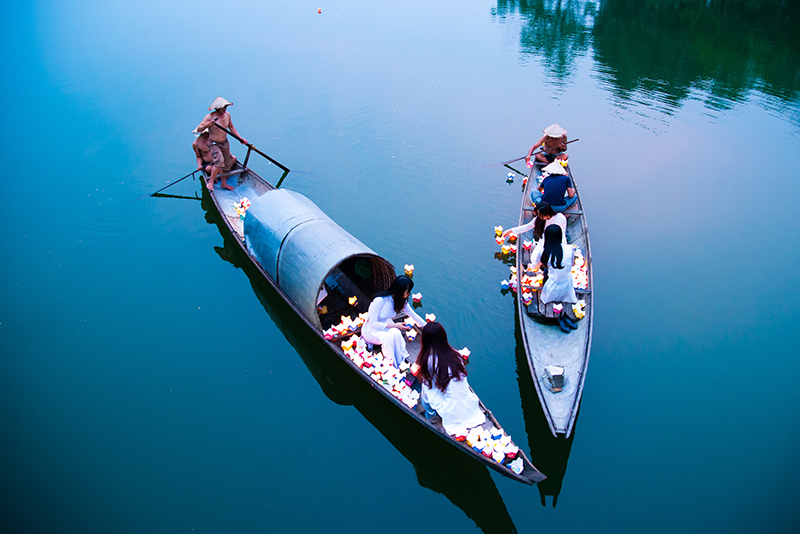 WEATHER OVERVIEW
Vietnam has a tropical monsoon climate, There are two distinct monsoon seasons : the southwest monsoon from April to September brings in wet and humid weather and the northeast monsoon from October to late March or early April brings colder and drier weather. Although Vietnam is small, country's climate is quite diverse, it's clearly distinguished by the regions:
Northern Vietnam:
Northern Vietnam has four seasons: spring, summer, fall, winter. 
Spring (about February-March) has drizzling rains and high humidity. 

Summer (April-July) is hot with high rate of rainfall, daytime temperatures sometimes can reach 36 degree.

Autumn (August-October) is much more pleasant and with clear sky, lightly wind and mild sunshine.

Winter (November-January) may have heavy mist and cold weather, the temperature can drop really low in the far north of Vietnam. 
Northern Vietnam includes mountain, plain and sea, so there are places to go anytime of the year. 
Central Vietnam
Central Vietnam is a transferring area between Northern and Southern Vietnam. Because of the long coastal line, this region is affected by the monsoon from Pacific Ocean with high rate of typhoons and floods from July to November.
Southern Vietnam
The temperature in this region remains constant all year (about 25-35 degrees), there's only two seasons: rainy and dry.
Rainy season is from April to September, Southern Vietnam, especially Mekong Delta gets plenty of heavy rain and often experience floods.

Dry season lasts long from October to March is slightly cooler and rarely rainy, the day is longer when the sky is clear and sun shines.
Peak tourism season in Vietnam is from October - March, this is the dry season in both Northern and Southern Vietnam, the weather's a bit cold and not too sunny. Travelers can choose to enjoy the wonderful scene of streets covered of pink cherry blossoms in Dalat, or the white paradise in Moc Chau when plum flower blooms; wait for snow in Sapa or sunbathe on the sunny beach of Phu Quoc Island; feeling the vibrant holiday's atmosphere in the cities or relax in a boat trip on Mekong River…. This is definitely the best time to visit Vietnam, because the weather is perfect and each place has its very own beauty to discover. 
The summer is long and hot with the chance of heavy rain, so this is not an ideal time to travel in Vietnam, but you won't actually see the charm of a tropical country if you don't visit Vietnam this time of the year. It's the season to taste delicious tropical fruit right in the garden, or watch the tropical downpour while enjoying hot coffee by the sidewalk, it's also the flooding season in the South when you can explore the life of the local on water. There are so many interesting things to see and experience in this season. The only thing travelers need to pay attention to is the typhoons that come continuously during the summer months in the Central Coast.
WHERE TO GO EACH MONTH
 
Weather
Where to go
Festival

January

North: the weather is pleasant and cool, rarely rainy 

8-23°C

South: dry weather with warm sunshine during the day and a bit cold at night

23-30°C

Comfortable for visiting most places

Recommended:

Moc Chau 

Da Lat

Mekong Delta

Hanoi, Ho Chi Minh city: 

New Year Countdown 

February

North: fine weather with little chance of drizzle

12-24°C


South: sunny skies and rarely rainy

24-32°C

Most places 


Recommended:

Bai Đinh pagoda-Trang An Landscape

Beaches in Southern Vietnam

 

Lunar New Year festival throughout the country (according to Lunar calendar)

March

North: This time of the year it's cool and not too foggy.

17-27°C


South: The weather is pleasant and stable 

27-35°C

Most places.
Recommended:

Perfume Pagoda festival (Hanoi)

Praying for rain festival of Thai ethnic group

April

North: the weather is getting warmer but not too hot

Recommended

Hue festival (Hue)

May

North: The most beautiful time of the year in Northern rural when harvest season arrives 

24-34°C

South: The rain is more frequent

28-37°C

Northwest area.
Recommended

Sapa

Tam Coc-Bich Dong (Ninh Binh)

Ha Long carnival Festival (Ha Long- Quang Ninh province)

Buddha Birthday ( pagodas throughout the country)

June

North: The temperature hits peak in most parts of the country, the weather is hot and stifling in the cities in the North

27-36°C

South: 27-35°C

Southern Vietnam

Northern mountain area
Recommended

Moc Chau

Mai Chau

Nha Trang beach

Nha Trang Beach festival (Nha Trang)

International Firework festival (Da Nang) - often from May to July

July

North: Temperature can reach to 40°C, downpours happen around day's end

32-38°C

South: Continuously rain lessen the heat 

26-34°C

Southern islands

Water park
Recommended:

Phong Nha Ke Bang

Ba Na Hill

Phu Quoc island

Da lat




Nha Trang Beach festival (Nha Trang)

International Firework festival (Da Nang) - often from May to July

August

North : The temperature is still high but not as severe as July. The typhoons come more often

30-38°C

South: beginning of flooding season.

26-33°C

Southern beaches
Recommended:

Quy Nhon

Mui Ne- Phan Thiet

Lantern Festival on Saigon river (Ho Chi Minh City) - Vu Lan day

September

The temperature gets lower, rain is less and less throughout the country.

North: 28-33°C

South: 26-34°C

Avoid Central Beaches
Recommended:

Mid-autumn festival are held everywhere with colorful lanterns.

Independence Day

October

North: Soft breeze and warm sunshine, the wet season has gone. Temperature drops a bit lower

25-32°C

South : Sunny and warm 25-33°C

Northern and Southern Vietnam
Recommended

Hanoi

Ha Giang

Ho Chi Minh city

 

November

The rainy season is away, there are little chances of typhoon in Central Vietnam. 

North: 21-30°C

South: 24-33°C

Most places


Recommended

Ho Chi Minh city

Da Nang

 Hoi An

Ok Om Bok Festival

December

North: The coldest season of the year comes with the chance of snow in far north of Vietnam.

11-25°C


South: sunny days and cooler at night

23-33°C

Most places 
Recommended

Central Highland

Moc Chau

Da Lat

Flower Festival in Dalat

Christmas (visiting Cathedrals in Hanoi, HCMC is recommended)