Top 10 Must-Try Dishes of Luang Prabang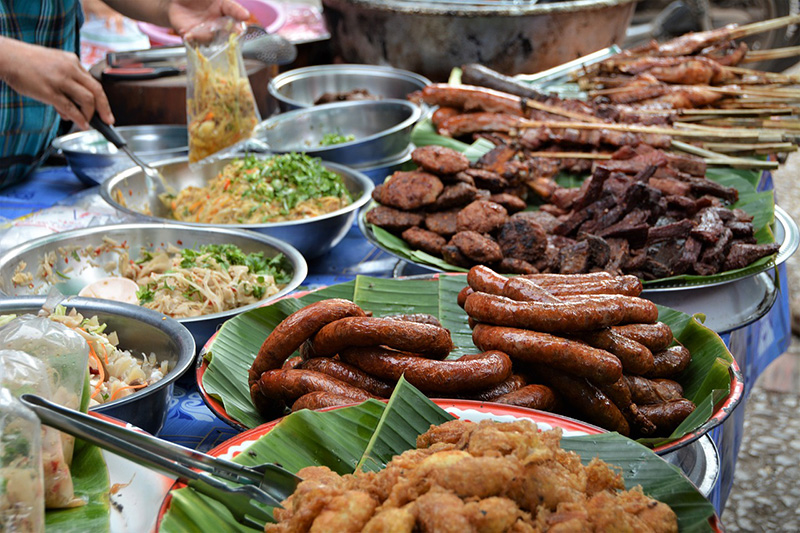 Luang Prabang is a famous ancient capital in Laos and also a UNESCO World Heritage city. Therefore, when coming to Luang Prabang, you will have the opportunity to experience many interesting cultures, immerse yourself in the natural beauty and of course, indispensable traditional dishes.
But if you are still wondering which are the best ones you should try, let's take a look at today Top 10 must-try dish of Luang Prabang. Please note that the list is randomly arranged, not sorted by the deliciousness level of the dish!
1, Som Tam (papaya salad)
Som Tam has long been known as a dish associated with Luang Prabang. You will be surprised by the popularity of this dish, which appears on almost all roads in Laos.
To make this dish, Lao people use dried shrimp, chillies, lime, garlic, tomatoes and Lao fermented fish sauce (also known as padaek). If you have been to Thailand, you might also have seen this dish also quite popular there. However, there is a slight different between the two. Lao people shave the unripe papaya while the Thai often grate the papaya.
Because of green papaya, you can feel the crunchy textures along with the spicy, a little sour taste, which can never make you get bored.
2, Khao soi (Luang Prabang noodle fish)
Khao soi is a specialty dish of Northern Laos. However, this Khao Soi dish in Luang Prabang has a different flavor than many other Khao soi versions in other parts of Laos. Therefore, even if you have enjoyed Khao Soi elsewhere, when you are here you are advised to try it one more time.
You will see in a bowl of clear pork broth with wide rice cut noodles, with a mound of tomatoes, chillies, fermented soybean, and ground pork.
Especially, when you eat you should remember to use all the accompanying herbs to feel the full delicious taste of Khao Soi bowl.
3. Jaew Bong (Luang Prabang chili sauce)
Jeow bong is the "soul" of Lao cuisine. Almost every dish in Laos is served with this special sauce, such as steamed fish, vegetables, sticky rice and grilled meat. You will find primarily Jaew Bong in Luang Prabang restaurants. This is a traditional food in Luang Prabang and it is also called Luang Prabang chili sauce.
It is made from quite simple ingredients such as fish sauce, dried paprika, sugar, garlic mixed with buffalo fat. This mixture will be cooked into a thick paste. A special feature of Jeow bong is the strong taste of chilli mixed with a bit of sweetness and a refreshing aroma.
4, Khmom ang (Grilled Bee Larvae)
Just the name of the dish is interesting enough for us to give it a try, isn't it? This is the most special dish that seems to only appear in Laos, and it's hard to find it elsewhere. Bee Larvae are wrapped in banana leaves and then grilled on aromatic ripe charcoal.
However, the best dish must be made from the bee that still have whole eggs and young bees and a little honey. The dish is not only fragrant, sweet but also greasy.
5, Or Lam (Luang Prabang's Buffalo Stew)
In Northern Laos, Or Lam is a very popular dish and is ranked as the main dish of Laotian families. Or Lam is a buffalo stew cooked with vegetables, dried gourds, black mushrooms, beans with a main spice of chili. People also sprinkle a little more herbs to make Or Lam for more fragrant smell.
In Luang Prabang some restaurants uses buffalo meat to make this dish, while in some restaurants you can have an alternative choice with Or lam made from chicken.
6, Kanom krok (Coconut rice pancake)
Your journey will not be really complete if you forget to try Coconut rice pancake - a street specialty in the ancient capital, Luang Prabang. This dish is deliciously sweet and the taste is addictive and it is difficult to share.
The local name of this dish is "a nom kok". It is not difficult to have one pancake for your own because it is available throughout the streets. Coconut rice pancake is exactly as the name implies, the main material from coconut milk combined with sugar, rice flour and cooked on a hot stove shaped like a small round cake.
Especially, this dish is usually wrapped in banana leaves or small bags to facilitate holding and enjoying as soon as it is cooked and still hot.
7, Barbecued meat in Luang Prabang night market
It is said that Luang Prabang features a peaceful, serene views. However, when night comes, you might be amazed of a bustling capital, because across many tourists all gather at the night market thanks to barbecued meat that is made to make you fall in love with
Going straight to the night market, a fragrant smell barbecue makes us hard to resist. The barbeque stalls line up in a long line, each skewer of meat is placed on the green banana leaf.
Don't be freaked out, but Laotians also like to eat animal organs, leather ... which normally do not appear in Western dishes. The dishes can be from: chicken, pork, beef and snapper.  Therefore, you are given various choices just like in a barbecue buffet.
Travel to Laos, go to the night market to enjoy barbecue - one of the street food in Luang Prabang is very popular. All you need is your favorite food and they will tell you the price.
Prices differ depending on the size of the grilled pieces and also the type of meat or fish you choose. Simply choose the piece you want, place your order, and eat on the spot.
Alternatively, you can have your grilled pieces wrapped up in banana leaves and take away
8, Khao Chi (Sticky rice)
You can see Khao Chi appear in almost every meal of Lao people. Normally, it's served with many different kinds of Jaews or dipping sauce. Whether you are eating grilled meat, fish dishes, salads or even omelets, there is always sticky rice for you to enjoy.
Khao Chi is very soft, fragrant and delicious. The long sticky glutinous rice balls themselves are cooked to hot annealing in a barrel to keep heat.
Khao Chi is put into banana leaves, quite similar to the way sold in Vietnam. Sticky rice is more delicious when served with grilled meat and sausages.
Another interesting way to enjoy this dish is grilling the sticky rice. You'll find sticky rice in Laos is on skewers barbecuing over a grill on the streets of Luang Prabang. The skewers of sticky rice are dipped into a mixture of eggs, herbs and in some cases fermented fish sauce and then grilled.
The sticky rice skewers are slightly more glutinous than the typical sticky rice served as a side to Laos dishes. They make for a great snack especially in the morning, when they are freshly grilled.
9, Sai Oua - Lao sausage
One of the popular street food in Luang Prabang must be Lao sausages. And perhaps, this is the most impressive dish for travelers every time traveling to Luang Prabang because of its special flavor.
The unique feature of Lao sausage lies in the ingredients and spices. The ingredients are pork, lemongrass, ginger, lemon leaves, cilantro, chili, garlic and fish sauce. Serve with a "special" Lao dipping sauce, Nam Cheo, made from glutinous fish and rice. This pork sausage is incredibly flavorful and not as spicy as the Thai sausage. It is perfect to eat as a snack or a starter to a meal.
In Luang Prabang, you can also find the local Lao sausage, sai oua krouaille. This is a black spicy grilled buffalo sausage.
10. Laos Larb: The National Dish of Laos
Laos Larb is considered the national food of Laos and is also a traditional dish of Isan people in Northeastern Thailand. Because it is made from basic meat and vegetables, Larb is also known as a rustic name - Lao salad.
Laos Larb has a similar reading as "loc" (luck) in Lao language, so it is considered a very significant dish in the culinary life of the people here. They often gave each other Laos larb dishes to wish for peace and good luck on New Year's Day. Laotian dishes are carefully prepared by families because otherwise they will bring bad luck for the recipient.
Laos Larb is usually made with minced meat from chicken, beef, duck, turkey, pig and fish, mixed with fish sauce, lemon juice and herbs. Many areas in Laos also use tiger meat, called Tiger Larb. The meat can be either raw or cooked (usually stir-fried), finely chopped and mixed with peppers, mint leaves and a variety of herbs.
Spices are an important ingredient to make the aroma and flesh of the dish such as crushed fresh ginger, basil, pepper, freshly grilled chili ...
Laos Larb with the freshness of meat mingled with the sour, salty taste of the spice will be perfect if combined with the light taste of sticky rice.
The cuisine in Luang Prabang is extremely diverse, rich and special, and street food is not only delicious but also affordable. And of course it will not be too difficult for you to enjoy these "specialties" when walking on the streets of Luang Prabang, Laos. So you cannot and shouldn't miss any chance trying all these wonderful dishes here once you are in Luang Prabang.