What to look forward on Khmer New Year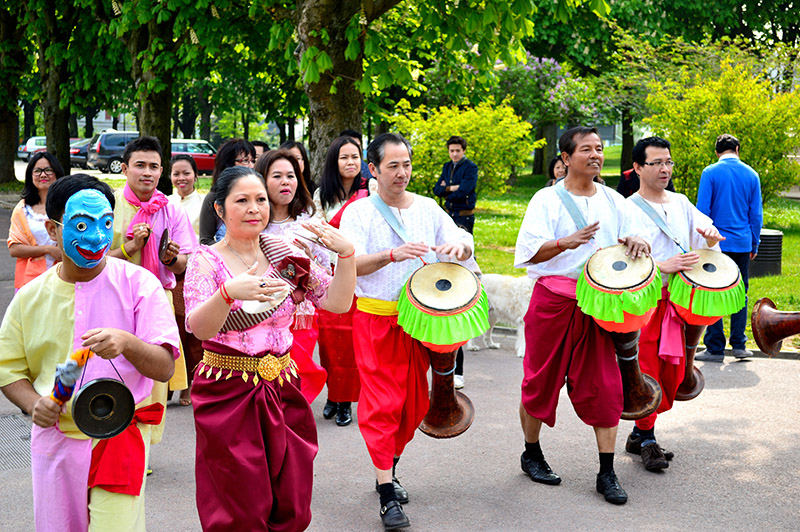 Out of many traditional holidays in Cambodia, Khmer New Year is probably the most important one, marking the start of a new chapter. Khmer New Year 2020 will last from April 14th to April 16th. Three days with three different layers of cultural meaning await any travellers with the love for the unique culture of Cambodia.
What do you need to know about Khmer New Year
Khmer New Year or Choul Chnam Thmey is a Cambodian holiday celebrating the traditional Lunar New Year. This holiday concludes the harvesting season. That is when farmers enjoy the fruits of their labor before the beginning of the rainy season.
The three days of Khmer New Year carries different cultural meanings:
1. Day one – Maha Sangkran:
On this day, people dress up and light incense sticks and candles at shrines. Family members gather together to pray and pay homage to Buddha. For good luck, people wash their face with holy water in the morning, their chests at noon, and their feet in the evening before going to bed.
2. Day two – Virak Vanabat:
The second day is dedicated to charity: people contribute charity to those who are less fortunate. At the end of the day, a solemn celebration is held to pay respect to ancestors, and Cambodians usually give children, teachers and the elderly gifts.
3. Day three – Vearak Loeng Sak:
The last day is to say goodbye to all the bad things. Cambodians believe by washing statues of Buddha  and their ancestors is a way of washing away all of their sins of the past year. It could be a kind deed that brings joy and prosperity in the new year.
How travellers can enjoy this holiday
Though the holiday lasts only three days but in reality, Cambodians usually take a full week off. If you expect the streets of big cities like Phnom Penh to be extremely crowded with people everywhere, you will be quite surprised because most people would return to their homeland, away from the hustle and bustle of big cities.
Therefore, you can choose to visit Phnom Penh, which will be much more peaceful than its casual everyday or travel to some provinces, where traditional festivals will be held and many other vibrant activities take place. 
If you want to stay in Phnom Penh, I suggest that you pay a visit to the temple of Wat Phnom. A big celebration will be held here. During this holiday, locals in the town would gather there to hold many traditional games. There will be a variety of traditional performances that easily take our breath away with beautiful dance moves and sophisticated traditional costumes. 
Other than that, Cambodians also put up lots of statues and decorate the streets with vibrant colors. Last year, they carefully weaved a pig statue at Wat Phnom, which has drawn the attention of many locals and travellers. The statue represents the Zodiac sign of that year also. Let's see if they would make a mouse statue this year.
Besides the capital city, travellers can also come to Siem Reap, where the famous Angkor Sankranta Festival is held. This festival was first held in 2013 and has brought not only the locals but also the curious foreigners the chance to learn about Cambodia's culture since then. It is a three-day festival full of events, shows, ceremonies, activities, games, food and drink all set around the stunning Angkor Temples.
In this festival, you will be roamed up with endless food stalls, offering many traditional dishes, some only available for the Khmer New Year. Traditional games from hitting a clay pot with your eyes blinded to quite intriguing tricks will bring travellers together. You can make a lot of friends after each fun game.
Advice for travellers during this holiday:
DO:
Plan everything ahead. Plan everything in advance since everything will be booked very quickly during the holiday.

Respect Cambodia's culture.

Ask the price before every time you order something (food, transport, …). Locals can take advantage of the holiday and make you pay a lot higher.

Take great care of your belongings (especially wallet, phone and important documents) when you enter a crowd.

Expect many stores and shops are closed down

Bring your sunglasses, sun-cream and drink lots of water because Khmer New Year happens at the hottest time of the year.
DON'T:
Carry around too much money when you enter any festival.

Overdrink or consume any weird alcohol

Accept strangers' drink offer or any suspicious acts