Cambodia Essential guide: When is the best time to visit?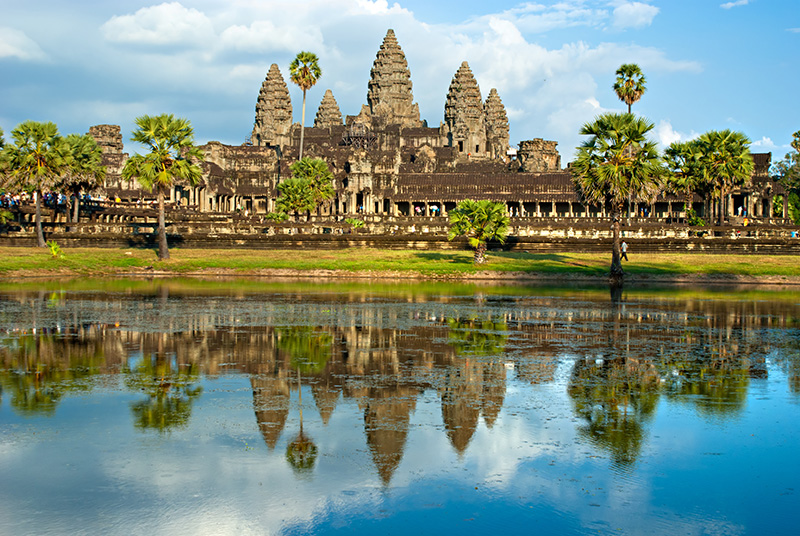 Cambodia is a tropical land with tropical climate. You can feel its warm temperature throughout the year. But otherwise, there could be things that if you notice a bit more can make your trip more memorable. 
Year-round Weather Review in Cambodia
Much like other tropical climate countries, Cambodia has 2 seasons: wet season and dry season. 
Wet season usually starts from May to October. The southwest monsoon during this time is responsible for 75% of Cambodia's annual rainfall. Accordingly, during the peak of wet season (July to September), it rains almost everyday in Cambodia. But don't worry too much, most of the time, rain only falls heavily in a couple of hours in a day, not particularly all day. 
Dry season runs from October to April, bringing the soaring hot northeast monsoon into Cambodia. Just imagining blowing 5 hair-dryers around your body, that's very much close to walking out in the streets of Cambodia during this season. The temperature is super high and the dryness can take your breath away.
Cambodia's weather is definitely distinct with the extreme of both seasons. Overall, it is true that the weather here is a bit harsh but it doesn't mean that you can't enjoy yourself. With festivals rich of Cambodia's unique culture all year round, you will soon get used to the weather and probably fall in love with the culture here.
Year-round timetable of weather and festivals in Cambodia
Month

Weather

Festival/ Special Occasion

Recommendation

Jan

- Temperature: 78.8°F (26 °C)

- Rainfall: 10mm

- Dry season

=> Cool temperature (maybe the coolest month of the year)


 

- Jan 1st: International New Year's Day

- Jan 7th: Victory over Genocide Day (the day Cambodians pay tribute to those who have fallen during Pol Pot's terrible regime; and celebrate for overcoming the traumatic past)

- With the cool weather, January is ideal to travel all places in Cambodia

- For those who seek big parties or cheerful crowd, come to big cities: Phnom Penh or Battambang, Siem Reap, and Kâmpóng Cham

- If you want to get away from the hustle and bustle, visit:

Sihanoukville's beach

Angkor Wat (and watch the captivating sunset)

Ta Prohm (magnificent antique)

Kampot (with chilling riverside)

Feb

- Temperature: 80.6°F (27°C)

- Rainfall: 20mm (with sudden rainfall)

- Dry season

=> Relatively cool weather

- The full moon day of the third lunar month (Feb 8th 2020): Meak Bochea Day celebrates the gathering of over 1,200 monks who pay homage to Buddha; this takes place in any temple in Cambodia.

=> A great chance of knowing one of the oldest religions

- People who are more drawn to the practice of Buddhism can visit any temples throughout Cambodia. 

- Buddhist temples in Phnom Penh:

Wat Botum

Wat Langka

Wat Moha Montrey

Wat Ounalom

Wat Phnom

Wat Saravan

- Buddhist temples in Siem Reap Province:

Angkor Wat

Banteay Kdei

Bat Chum

Bayon

Krol Ko

Neak Pean

Preah Khan

Preah Palilay

Ta Prohm

Ta Som

Tep Pranam

Mar

- Temperature: 86°F (30°C)

- Rainfall: 10mm

- Dry season

=> Dry, hot, dusty 

- Although March may not have any festival, this time is still a very ideal time for travelling, especially to both mountains and beaches

- With sunshine cover almost every part of the country, beaches are to dream for. Here are some you should consider:

Long Beach, Koh Rong

Lazy Beach, Koh Rong Saloem

Coral Beach, Koh Ta Kiev

Otres Beach, Sihanoukville

Koh Tonsay, Kep

Sabay Beach, Kampot

- For a bit of adventure, try Cardamom Mountain's jungle or Bokor Mountain, the higher you reach, the farther you are from the scorching heat of dry season.

Apr

- Temperature: 95°F (35°C)

- Rainfall: 10mm

- The end of dry season

=> sometimes, the temperature can reach up to 40°C

- April 13th 2020: Khmer New Year celebrates the fine collection of harvest and to welcome the rainy season.

=> With 3 main activities, this holiday carries a loving message:

 Day 1: Cambodians make offerings and prayers at local temples and wash themselves with holy water at various times of the day

Day 2: Cambodians help and give service to the poor, homeless and needy.

Day 3: Cambodians clean their elders and Buddha statues with perfumed water as an act to invite good luck and happiness

- April 25th 2020: Royal Ploughing Ceremony (Bonn Chroat Preah Nongkoal) marks the beginning of rice planting season. Reading about the tale behind this holiday is truly fascinating. Watching it in real life is even more fun.

- Since April is one of the hottest month, it is suggested to stay inside or travel to much cooler areas: beaches or mountains mentioned above.

- Before immerse yourself in the rich culture of Cambodia during Khmer New Year, you can ask some locals for guidance or company. Their stories will definitely enlighten you.

- Royal Ploughing Ceremony will take place in front of Cambodia's National Museum.

May

- Temperature: 84.2°F (29°C)

- Rainfall: 20mm

- The start of wet season

=> At the beginning of May, the heat would still be there. Towards the end of the month, rain may fall.

- May 14th: King Norodom Sihamoni's Birthday is a three-day holiday. During this holiday, you can see crowded streets with colorful banners and billboards congratulating the King on this auspicious day.

- Take use of the transition between dry season and wet season to explore even more beaches and mountains of Cambodia:

Kirirom - home to sprawling pine forests

Mondulkiri - huge elephants are everywhere
 

June

- Temperature: 82.4°F (28°C)

- Rainfall: 20mm

- Wet season

=> Humidity starts to rise (up to 70%)


 

 

- You should be careful when visiting coastal areas, such as Sihanoukville and Kep, as well as the Cardamom Mountains. During June, heavy downpours can happen in those places.

July

- Temperature: 80.6°F (27°C)

- Rainfall: 40mm

- Wet season
=> Downpour happens a lot. But usually come with clear signs like dark clouds or strong winds.

-Since there is no festival and due to the extreme of infrequent rainfall, July is not crowded with travellers; plus the travel price would get lower. This is actually a great chance if you want to dodge the crowd and save some coins.

- With the overpouring of rain, some think that July should not be the time one pay visit to Cambodia. In fact, there is one place that suits this drawback perfectly. It is the flooded forests and floating villages of Tonle Sap Lake. This lake swells to more than 5 times its size during wet season.

August

- Temperature: 78.8°F (26°C)

- Rainfall: 40mm

- Wet season

=> Downpour happens a lot. It cools the weather down and wash the dust away.

- Despite the lack of festival in August, as rain pours down, the scenery is covered in a shinier, greener, fresher look, which is a great chance for you to discover many other natural scenes in Cambodia

- During the wet season, with the rise of river level, boating trips are no doubt superb. Awaiting you are flooded forests and fishing communities of Tonle Sap and glistening waterfalls in the Kulen Mountains.

Sep

- Temperature: 78.8°F (26°C)

- Rainfall: 60mm

- Peak of wet season

=> There could be flood in some parts of Cambodia. Rain will fall throughout the country.


 

- Sep 24th: Constitutional Day is a celebration of the signing of a new constitution by King Norodom Sihanouk in 1993.

- From late September to mid-October: Pchum Ben (Ancestor's Day) is a memorial day to Cambodia's respectable ancestors and spirits of the deceased.

=> In some ways, this resembles Halloween in Western countries.

- With the rising water level, Tonle Sap Lake would still be an ideal place to discover the adventurous life of float villages before September moves to the end of the wet season. 

- All Buddhism Temples will also be welcoming any souls in the Pchum Ben day.

Oct

- Temperature: 80.6°F (27°C)

- Rainfall: 50mm

- Dry season

=> Rains start to slow down. Showers would still happen during October.

- Oct 15th: Commemoration Day of King's Father commemorates the death of the current king's father, who passed away in 2012.

- Oct 29th: King Sihamoni Coronation Day, 

- Any places would be ideal to travel.

Nov

- Temperature: 77°F (25°C)

- Rainfall: 40mm

- Dry season

=> Temperature starts to fall with the low humidity level. 

- Nov 31st: Bon Om Touk - a momentum occasion celebrate the reversing flow between Tonle Sap and the Mekong River.

- Tonle Spa Lake

- Phnom Penh

Dec

- Temperature: 77°F (25°C)

- Rainfall: 10mm

- Dry season

=> Rainfall is rare, humidity is low

- Angkor Wat International Half Marathon is held in December inside the UNESCO complex to support a ban on the manufacture and inhumane use of antipersonnel mine.

- Angkor Wat complex