Can't forget these attractions in Battambang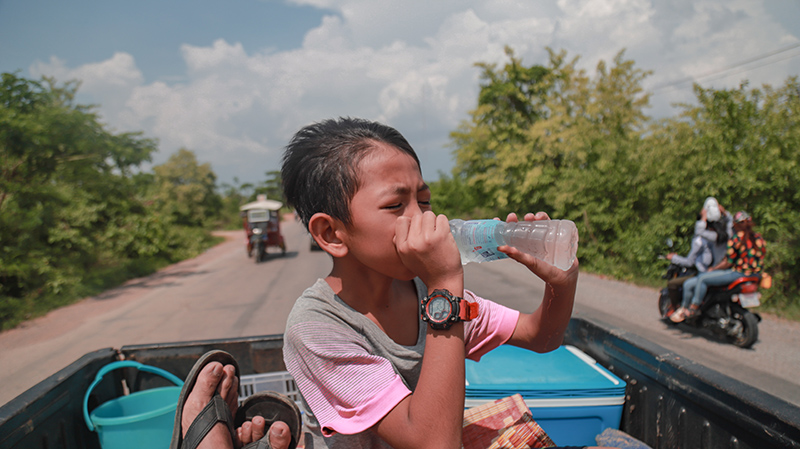 What's so unique about Battambang?
Battambang is still new when it comes to tourism. Coming here will give you insights into Cambodian's daily life, struggles in the past and many soon-to-be discovered journeys. From nature lovers to culture explorers or avid history learners and adventurous souls can still find something that they can truly relate to Battambang. Make sure you don't miss the opportunity to experience all that is unique here. 
Tick each destination off your travel list in Battambang
Battambang Bat Cave
Seeing bat on movie is far different from the reality. Give yourself a chance to see the truth by visiting Battambang Bat Cave. The cave is about a hundred metres up the rock's face. Bats would exit the cave for their night journey at about 5:30 in the evening. Coming out of the deep twirling cave are bats over bats, getting all ready for their dinner flight. 
You can sit at the base of Phnom Sampeau (very near there), and observe the whole cinematic view. That is in case you can't get close to the entrance. Usually locals and travellers gather at the entrance of the cave really soon. So if you want to secure a good seat, arrive at the cave before 5:30. 
Killing Cave on Phnom Sampeau Mountain
On your way to the top of the Phnom Sampeau mountain, you may encounter the infamous Killing Cave, a very haunting historical site. 
This hilltop temple on the road to Pailin is one of the main locations of Battambang's killing fields. At the top of the large cave is the natural skylight which the Khmer Rouge marched innocent people, lining them up, then bludgeoning them and letting their bodies fall into the darkness below. Stories like that and with the vivid scenes all around leave us all in pain and feel sympathy for Cambodian back in the dark days of Pol Pot regime.
After hearing stories from the guide, you can look out into the sky and pray for the fallen souls. 
Prek Toal Bird Sanctuary
The Prek Toal Bird Sanctuary, located at the core area of the Tonle Sap Biosphere Reserve, is the largest waterbird colony in Southeast Asia. Prek Toal is covered mostly by freshwater swamp forest and home to many rare and endangered birds. A variety of 150 species of rare birds can be found there, including Black-headed Ibis, Painted Stork, Greater and Lesser Adjuncts, Spot-billed Pelican, Milky Stork, Grey-Headed Fish Eagle, as well as three kinds of Cormorant.
Each kind of bird has distinct features that outshine others if put in the same line. They are so lively and vibrant to look at that few travellers couldn't say goodbye. For the best sight-seeing, it is recommended to visit the place during the dry season (December to early February). Soon as the water starts to dry up elsewhere, many species of birds congregate here. It is also possible to visit from September, but the number of birds can be lower. Serious twitchers suggests that the best time to see birds is early morning or late afternoon. If you want to have an early start or an overnight at Prek Toal's environment office, you only have to pay basic accommodation fee (single/double bed US$15/20).
Phnom Trong Morn Trong Tea
Phnom Trong Morn Trong Tea, Battambang is a transcendent garden filled with an abundance of flora and fauna. Phnom Trong Morn Trong Tea proudly belongs to the category of Nature Wildlife and Preserves.
For that reason, many adventure loving enthusiasts have considered the place to be of great value and arrange frequent trips to this magnificent destination. It usually will take you a whole day to get to every corner of this greenish fresh garden of massive size.
Wat Banan Temple
Located on top of a hill close to Sanker river, Wat Banan is an Angkor Era temple. To get to the Wat Banan, you have to climb approximately 400 meters heighten mountain with around 300 stairs. However tired you'll be, remember that it'll all be worth it till the end. And it is! Stunning 360 degree panoramic view opens up, with captivating sight of the immense Sanker River to thousand sugar palm trees, the rice paddie and small villages. Soon you forget all your tiredness and start to really immerse yourself in the cinematic scenery. 
At the bottom of the hill are a few food and drink stalls making it a pleasant place to wind down some time. At the mountain's valley, travellers can visit Ku Teuk and two main natural wells, namely: Bit Meas and Chhung or Chhung Achey.
Otherwise, very close to Wat Banan is the Prassat Banan vineyard, the only vineyard available in Cambodia, giving travellers chances to get in the process and try making wine.
Mrs. Bun Roeung's Ancient House
Built of now-rare hardwoods almost 100 years ago in Wat Kor village and surrounded by a marvelous orchard garden, Mrs Bun Roeung's Ancient House with a wide verandah exudes a unique sense, an ambience of another era. 
Learning about the house's history is now easy since there are shorts tour in both English and French. Guider with insightful stories of the past and very detailed description into meticulous features of a traditional Cambodian house design will definitely attract every culture lover. Feel free to ask the guide any questions.