Regain The Spiritual Connection On A Temple Hopping Tour In Yangon, Myanmar
Despite no longer the capital state of Myanmar, Yangon still plays the role of a busy transport hub and an attractive tourism spot. One of the top-rated experience in Yangon is an exciting excursion around some of the best-sacred temples. A temple treasure hunt is more than a pilgrimage around Buddha yards. It gives you a precious opportunity to reconnect with your soul and find inner peace.
Approximately 90% of the national population is Buddhists, so it is not difficult to see images of temples and pagodas all over the country, especially in the ancient capital of Yangon. Thanks to the unique architecture design, intriguing legends and stories evolved around at each spot, visitors enjoy more exciting experiences on a temple hopping tour. Also, we as the guests, have a chance to understand more about Buddhism in this land of thousands of mysterious temples.

Hunting Temple Treasures In Yangon
Prepare To Be Amazed At The Gold Of Shwedagon Pagoda
Shwedagon Pagoda is without a shadow of a doubt the most prestigious temple in Yangon. This is a sacred symbol of Myanmar and is also the pride of the local people here. Some evidence proved that the first brick of Shwedagon Pagoda was set about 2,500 years ago. The architecture of this temple is extraordinarily ingenious and sophisticated. The brilliant yellow color makes Shwedagon completely shine under the dazzling glow of daylight. Wherever you are in Yangon, you can easily spot Shwedagon Pagoda. It nestled on Singuttara Hill, reaching a height of 99 meters.
Shwedagon Pagoda is Myanmar's most famous religious architectural wonder; a national treasure worshiped by the people. This temple is adorned with 90 tons of gold. On the tops of the tallest gilded stupa are thousands of diamonds, gold bells, and precious stones. It is also a temple to keep one of the eight hairs of Buddha and relics of the four previous Buddhas of the present era. Visiting the Great Dagon Pagoda, you will be immersed in the magical and mysterious Buddha space. This is undoubtedly the best spiritual destination in your journey to explore the temples in Yangon.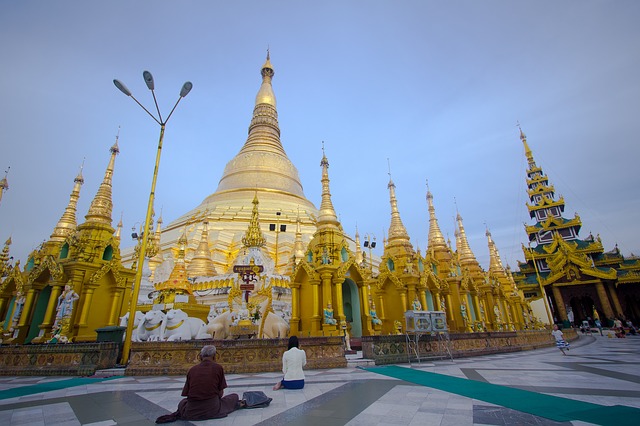 Photo: Arkkrapol Anantachote/Pixabay 
Visit The Downtown Sule Pagoda
Another temple in Yangon that is just as famous as Shwedagon Pagoda is the Sule Pagoda. Like Shwedagon Pagoda, Sule Pagoda is believed to contain one of 8 sacred hairs of Buddha. Legend has it that Sule Pagoda was completed even before Shwedagon Pagoda. The former was supposed to be built during the time of ancient Buddha. This tourist attraction has a characteristic architecture of the Mon ethnicity. It shines bright thanks to the peak of a golden stupa. Due to the convenient location right at the heart of Yangon's main routes, international travelers like us can get access to Sule Pagoda without much trouble.
In addition to the delicate and unique architecture, this temple is famous for 8 Buddha statues symbolizing seven days of the week, including two Buddha statues symbolizing Wednesday. The local monks hold plenty of religious rituals on Sule Pagoda, including one of the most significant events among Buddhists, the Buddha birthday ceremony.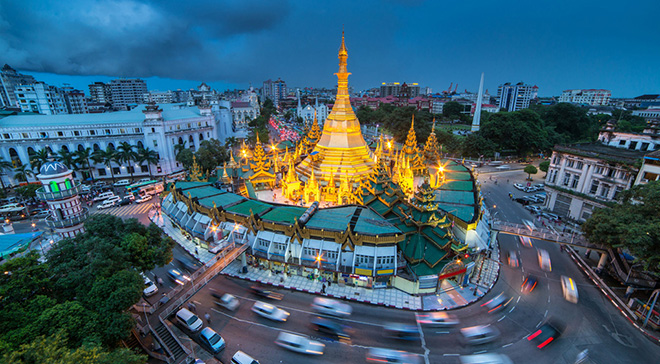 Encounter A National Wonder Chaukhtatgyi Buddha Temple
Chaukhtatgyi Buddha Temple houses one of the biggest and one of the most revered reclining Buddhas in the world. It probably sets a record in Yangon, so many tourists flock to Chaukhtatgyi to see the magnificence of the reclining Buddha.
It is around 66 meters long with a vast glass eye. The exact dimensions for the eyes of the reclining Buddha are 1.77 by 0.58 meters. Such an incredible number. Originally built from 1899, the Buddha sculpture has gone through several renovations to achieve such exceptional shapes and sizes
Local Burmese often come to Chaukhtatgyi Buddha Temple to pay their tributes to the Holy Buddha and their ancestors by giving offerings as incense and flowers. If you also believe in the hidden spiritual side, you can come and pray for the fortune.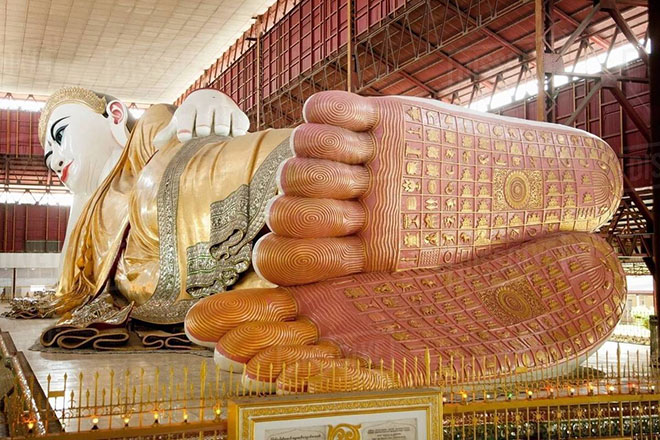 Get Lost In Botataung Pagoda
The name of Botataung Pagoda means "thousands of generals." During your first visit to this temple, you will feel overwhelmed with an entire space covered in dazzling yellow. This is one of the highest temples in Yangon, so it is incredibly outstanding. The architecture of Botataung Pagoda consists of a large central stupa and many smaller ones encircling around. Each decorative and carving detail on the exterior wall shows a great sense of elegance and meticulousness.
Botataung Pagoda features a mirrored maze-like walkway decorated glass showcases storing a wide selection of ancient relics and artifacts. All the antique objects used to be sealed inside the earlier pagoda. But after the demolition during World War II, in an attempt to reconstruct Botataung Pagoda, ancient treasures of Botataung Pagoda have been open to the public.
The pagoda in Yangon Myanmar is not only outstanding in architecture but also contains deep religious beliefs and pride of the Burmese. If you have a chance to visit Yangon's vibrant city, don't miss an opportunity to visit these one-of-a-kind temples.